Preference settings
Preferences can be set AlarmeJT parts such as the colors used, information about you and your station, the bands etc ...
The window is displayed as tabs accessible from the AlarmeJT -> Settings.
General tab :
Here are listed the settings for your station and your HamQth password in the event that you wish to sign in to your account to obtain information on the stations contacted. In all cases please enter your code to a minimum and your large square locator (LLCC - 4 digit).
The lower part is scheduled to select windows open automatically when you start AlarmeJT (check).
The choice of language: French and English (for now).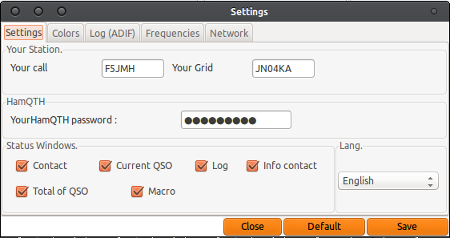 appearance tab :
You can, if you wish, set the colors used by the software. The buttons "F" corresponds to the bottom, buttons 'T' for the text color. The settings are available for both viewing and decoding the various alerts (DXCC, region, ... locator). The lower part concerns the Contact window.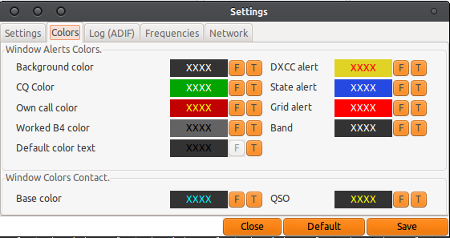 Logbook tab :
For now it is mostly the part about ADIF export. Please tick the information you want to export.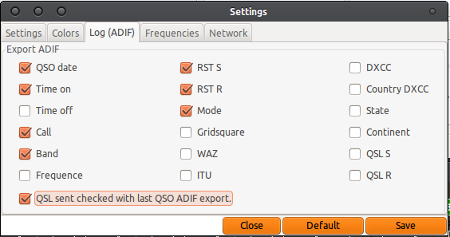 Frequency tab :
The frequencies on which you wish to work. The top concerns and lower HF bands, the lower part of the VHF and UHF bands.
This part was designed for later use, it therefore has no effect on the software currently.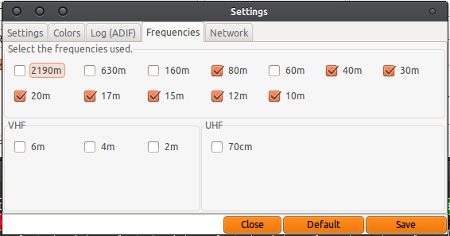 Network tab :
The network settings for the UDP function.
Reminder: the IP address 127.0.0.1 for localhost is the default port WSJT-X client since 2237. Check WSJT-X: File-> Settings-> Reporting, note the port number, it must be identical to each side. The checkbox UDP must be enabled.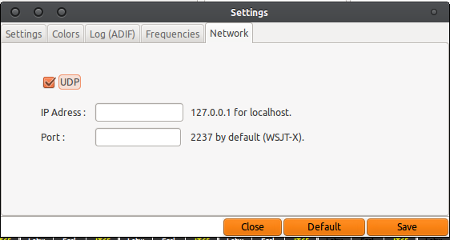 Note: originally designed to work with or without UDP, AlarmeJT no longer has the UDP functionality. If you would not use UDP, please refer to the 0.2 release of AlarmeJT.
Buttons
Close :
Exits without saving preferences.
Default :
Retrieves the original settings for the colors of uses.
Save :
Guess !!! Save Changes...
NOTE that the button of the parameter backup is valid for all settings and not for each tab.
Published on Monday, 20 April 2015 by F5JMH