part Contact
The information in this window appear when:
You click a call of the area 'Band Activity' of WSJT-X.
You change band.
You change mode.
You pass in TX mode.
You change the area 'DX Call' of WSJT-X.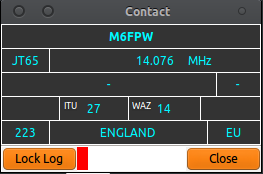 Each line shows the following information (from top to bottom and left to right):
The DX call.
The mode and frequency (in MHz).
The region and region code (if knows).
Lotw, ITU zone, CQ zone, EQSL (if QSL via e-qsl.cc).
The DXCC number, name of DXCC country and continent.
Log lock :
Button that locks the logbook. The indicator on the right side indicates the status: red for unlocked, green for locked. In its locked position, you automatically get your log sorting on the specified call This lets you know if and when you contacted this station.
Note: To enable this feature, the logbook window must obviously be displayed.
Published on Monday, 20 April 2015 by F5JMH